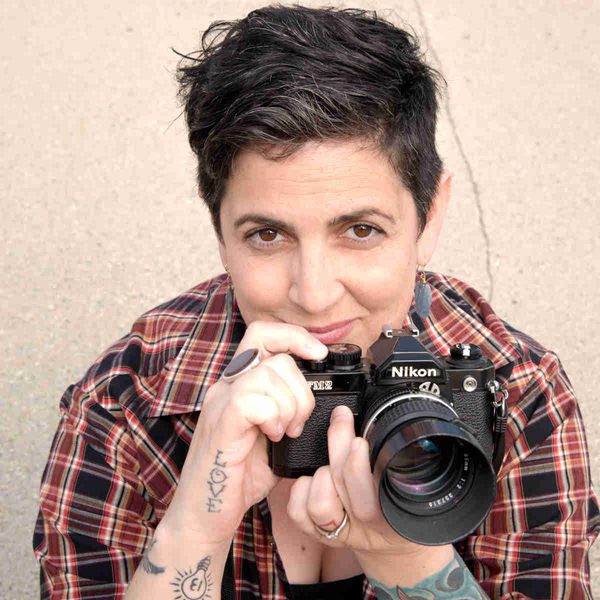 Sarit is a multi-faceted photographer based Southern California. She specializes in fine-art portraiture, creative commercial photography, musicians, yogis, and the occasional pinup. In her fine art photography, Sarit plays with light, conceptualization, and shoots in various landscapes. She is adept with both digital and film mediums, but her primary tool is a Nikon digital. She uses her beloved Hasselblad with its wonderful square images whenever the opportunity to shoot with film arises.
Practically born with a camera in her hand, Sarit spent her early years puttering around a darkroom with her dad, capturing moments in time and watching them come to life. She fell in love. Eventually, Sarit sought formal training for her photography, completing Santa Monica College's renowned photography program.
Sarit Z Rogers is also the founder the LoveMore Movement, which she co-founded with her husband, Joseph Rogers. Her years of activism, social justice work and fierce body-image advocacy led her to create a movement that focuses on highlighting individuals who altruistically help others so as to encourage others to do the same. Through her photography, Sarit is highlighting the "unsung heroes" in our communities. The LoveMore Movement will culminate in a book, chock full of altruistic splendor and inspiration, and a movement, which inspires people to be of service.
Over the last several years, Sarit has photographed several book covers focused on shifting the paradigm of standard beauty within the yoga industry. Her work can be seen on the covers of 21st Century Yoga, Yoga Ph.D, and Yoga and Body Image. She photographed the Yoga and Body Image Coalition's initial campaign which was seen in Mantra Yoga + Health, Yoga Journal, and more. Sarit is proud to be an Active Partner in the Yoga and Body Image Coalition and excited about her ongoing role as a photographic contributor to the cause. You can help support the YBIC here.
Sarit strives to bring attention to multiple facets of beauty in her images, understanding the unique beauty each of us possesses. She works collaboratively with her clients as creative cohorts. Through compassionate and honest conversation, she is able to make even the most camera-shy subject secure and comfortable in front of her lens, enabling her to achieve the best possible image.
When Sarit is not chasing light, she spends her time writing and hanging out with her wonderful husband, Joseph, her amazing son, and their silly rescue Pit Bull pup, Lulu, and no-nonsense cat, Sammy.